Aith Charity Shop Hands Over Cheque for MRI Scanner
Aith Charity Shop this week donated £2,000 to the MRI Scanner appeal - money raised through selling donated second hand clothes and goods to the community. NHS chief executive Ralph Roberts was on hand to receive the cheque which was handed over by charity shop stalwarts Bertha Brown and Joyce Johnston.
The donation has now brought the total raised for the MRI scanner to £20,309 – with the project poised to pick up speed in coming weeks.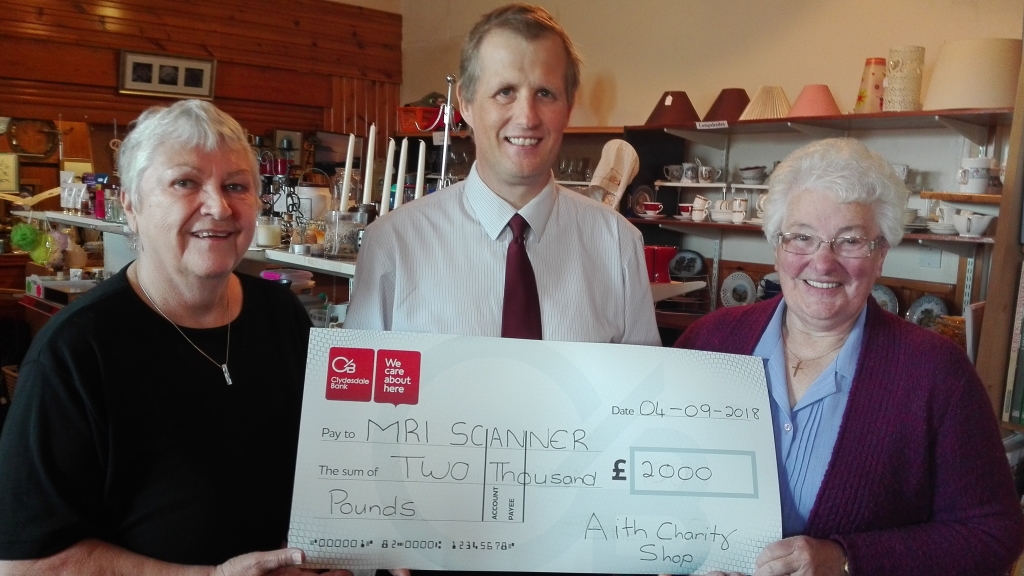 Bertha Brown, left, and Joyce Johnston, from the Aith Charity Shop, welcomed NHS Chief Executive Ralph Roberts this week to hand him a cheque for £2000 for the MRI Scanner.
Mr Roberts said the donation from Aith Charity Shop was a reflection on the community's commitment to the MRI Scanner project and was greatly appreciated. "When you hear the stories of people's struggles to have an MRI scan and the distances folk travel, it brings home how critical this equipment is for the care of Shetlands population," Mr Roberts said.
Mrs Brown said she had had several MRI scans and each time it had been a stressful experience made worse by having to go to the mainland. "This is a project that we wholeheartedly support and encourage the wider Shetland community to become involved in, so we can make it a reality."
Mrs Johnston said the Aith Charity shop had donated money for the CT Scanner when that fundraising project was underway a few years ago and that the equipment had had an enormous impact on delivering healthcare in Shetland. "All the money raised through the sale of clothes and goods in our shop goes back into worthwhile projects in the community – many of them linked to healthcare," she said.
Mr Roberts said afterwards that visiting Aith Charity Shop and seeing the good work the team was doing was "tremendously inspiring". "This is a great example of individuals working towards the support and improvement of their community. What makes Aith Charity shop so special is the people working there do it with such joy and warmth that it makes the whole experience of visiting so enjoyable."