Golden Voiced Shaun Sings for Scanner
The beautiful voice of Shaun Simpson has raised £2000 for the MRI Scanner Appeal through sales of his CD "Oldies but Goldies" – and more have been made to meet ongoing demand. He handed over the cheque to MRI Scanner Appeal fundraising manager, Derek Hart recently.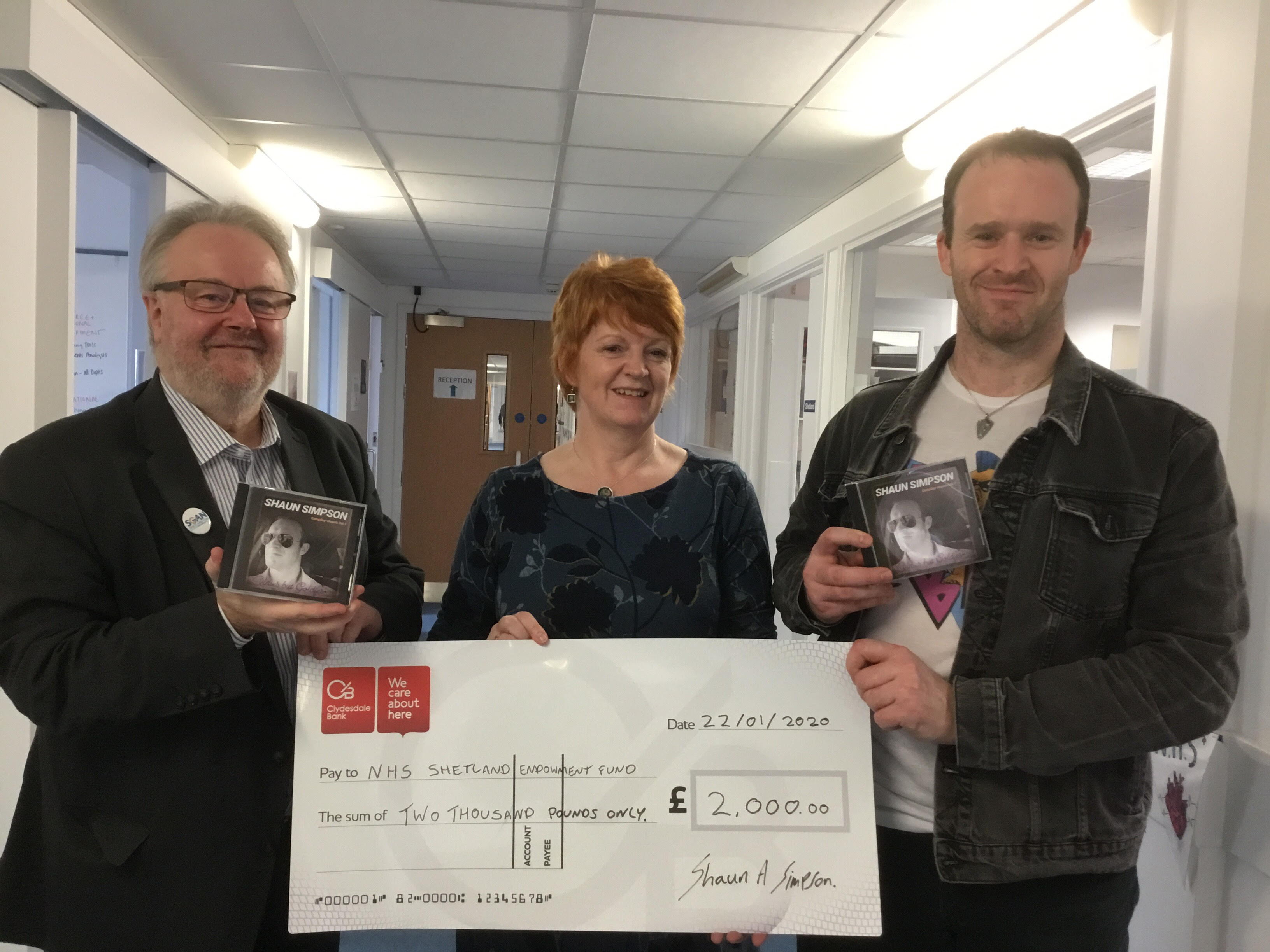 Derek Hart, left, accepts the cheque for £2000 raised through sales of the CD "Oldies but Goldies" sung by Shaun Simpson, right. Centre, is Shaun's mum, Netta Simpson, who has marketed and distributed the CD.
Shaun is now thinking about a follow-up "volume 2" compilation for a Christmas release this year with similar rock-style cover hits. "My mum (Netta Simpson) has been on at me for a long time to make a CD of some recordings I've done at home using backing tracks. When she suggested we made one for the SCAN appeal, I finally gave in and told her to go ahead," he said. "We hoped we could help raise a few hundred pounds for the cause, so I would really like to thank everyone who has bought one and helped us reach £2000, and hope we can sell a few more through the year."
So anticipated was the CD that 64 copies were sold even before it went on sale, for £10 each, at the Tetley and Anderson shop in Symbister, the Vidlin shop and the Tourist Office in Lerwick.
Shaun said Maurice Smith, from Cumlie Media in Sandwick, had been a great help with licencing and production and, in support of the project and the Scanner Appeal, footed the cost of the licence fee for the most recent batch.
In his day job, Shaun is the cook on the Whalsay pelagic fishing boat, the Zephyr. His love of music and his singing talent was likely inherited from "both sides of the family", he says.
It is not the first time Shaun has been involved with fundraising for the MRI Scanner. Last year, when the Zephyr was opened to the public for a day, for donations for the scanner, Shaun and Netta helped make the buffet for visitors to enjoy. Netta is also a member of the Whalsay SWI and the Whalsay Gala committee, both generous donors to the scanner appeal.
For those who would like a CD and who can't reach one of the outlets in Shetland, Netta can be contacted through Facebook under the name "Janette Kathleen Simpson" or at home on 01806 566556.