MRI Scanner Fundraising Surges Forward
Shetland People Overflow with Generosity but Most Have Stories of Suffering
Fundraising for the MRI scanner appeal has now reached £16 534 with donations coming in daily from all corners of the isles.
In the weeks since the appeal was launched at the beginning of July people in Shetland have come forward with remarkable stories of survival – underscoring the urgent need for an MRI Scanner for the isles.
Burra singer "Big Robbie" Cumming dedicated the proceeds of a dance held in Hamnavoe on August 4 to the MRI Scanner campaign after his great grandchild was recently diagnosed with a tumour. With Gift Aid the total amount raised through Robbie's fundraising has been £2500. Robbie said his family's situation would have been much easier had Shetland had an MRI scanner.
"What has touched me is the incredible generosity of people in Shetland," Robbie said, "When people heard what happened to our family they were so quick to give – from letting us use the hall for the concert to donating fish suppers, haircuts, toys, money and vouchers for prizes. I was flabbergasted at how people were prepared to give whatever they could to raise money for an MRI Scanner," he said.
On the night of Robbie's Burra dance, Hamnavoe residents Angus and Sandra Ward held a house-warming for their new home not far from the hall. In lieu of gifts they asked for donations for the scanner. Altogether they raised £2550
"People were coming from Big Robbie's event down to our place afterwards and as they arrived we asked for a donation for the MRI scanner – people gave in £50, £20 and £10 notes. Folk were unbelievably generous," said Sandra. Robbie too joined in that party and continued singing raising more money for the MRI Scanner.
Also from Burra, Katie Anderson, 12 and her cousin Aimee Laurenson, 13, have handed over a cheque of £385 from selling ice-cream during their summer holiday to the NHS. The girls, who were supervised by their granny, Grace Laurenson, came into NHS headquarters at Montfield with the cheque and handed it over for depositing in the Endowment Fund account.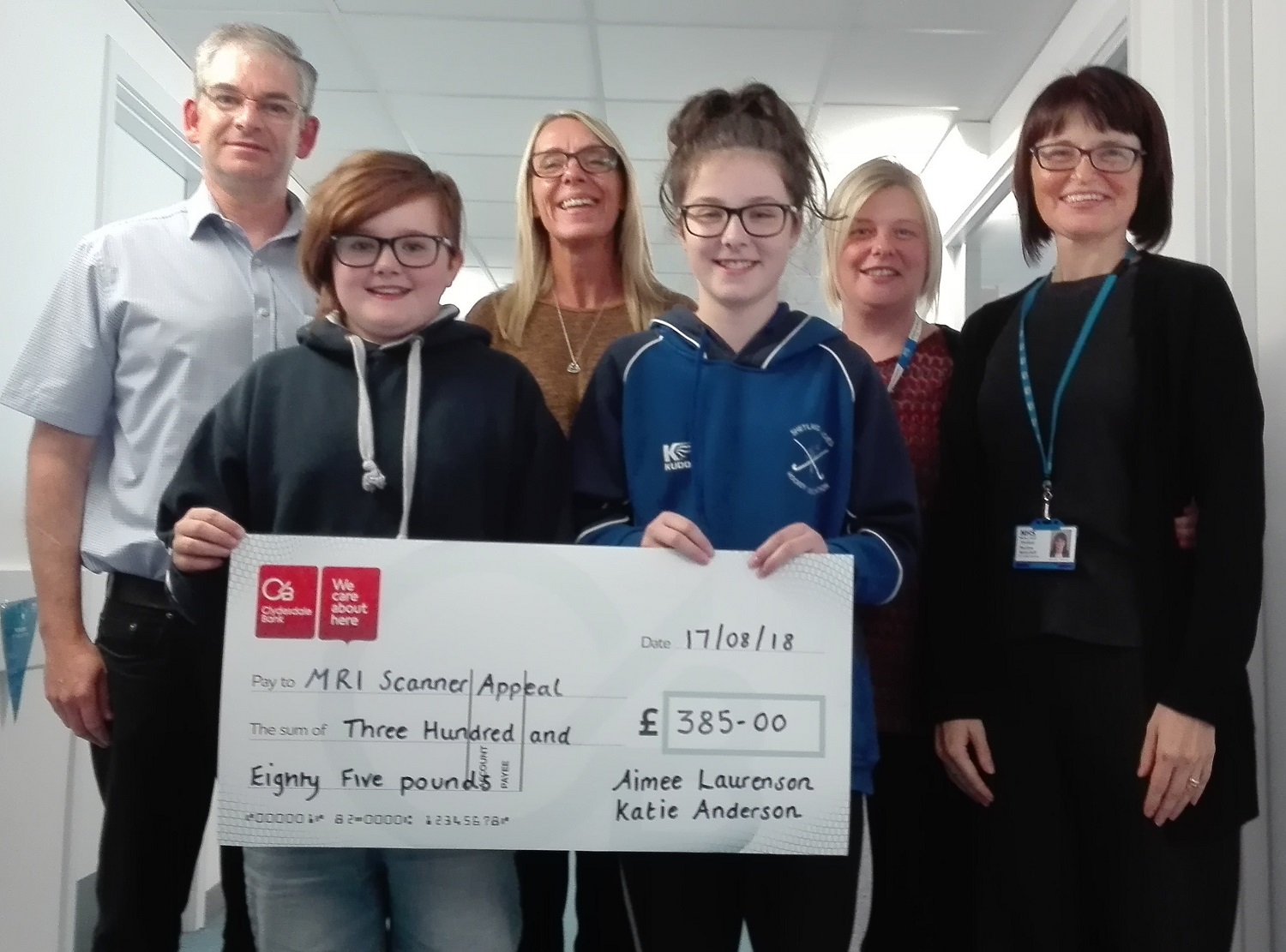 The NHS team at Montfield accept a cheque from the Burra lasses who raised money for the MRI scanner. From left are Simon Bokor-Ingram, Katie Anderson, Mary Marsland, Aimee Laurenson, Lisa Gray and Pauline Moncrieff.
"We had a lot of people come by for an ice-cream, especially at the last location at the Pink Hall in Hamnavoe," said Aimee. "People knew we were selling ice-cream for the MRI Scanner," added Katie.
Diane Taylor from Virkie has donated £100 pounds to the MRI Scanner to mark the seventh anniversary of her business, Shetland Resolve and her own 50th birthday. She asked her Facebook followers to nominate a charity, put them all in a hat and her husband Mike did the lucky draw. The winner was Gemma Graham who nominated the MRI Scanner and the MacMillan Cancer Support Nurses to share the £200 donation. Shetland Resolve offers life-coaching and therapy to help people overcome stress, anxiety and depression.
Harriet Middleton, a grandmother from Sound, who has been knitting Fair Isle hats, Alice bands and other small items, has already had more than 9 000 views on Facebook of a video showing her knitting for the MRI Scanner. Her friend Gemma Poulton has donated some of her knitwear to be sold on Harriet's stalls. Harriet told how she has been travelling to Aberdeen for nearly two years for MRI scans after she had a tumour removed.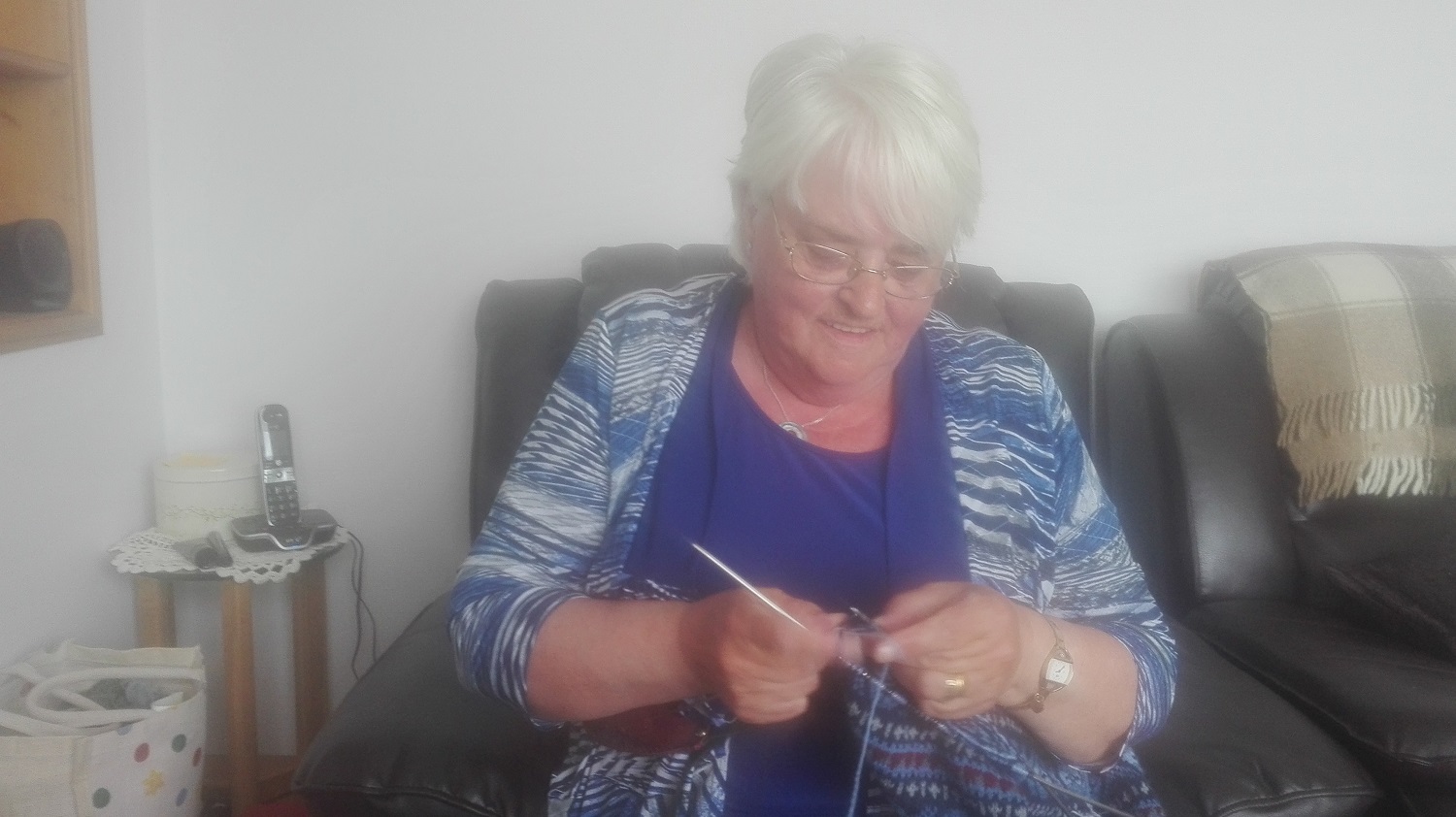 Harriet Middleton from Sound has been using her Fair Isle knitting skill to raise money for the MRI scanner.
Lisa Ward, chairman of the NHS Endowment Fund and one of the main drivers behind the MRI Scanner appeal, said she was deeply touched by the heartfelt enthusiasm of Shetland people for the project. "The MRI Scanner is something we have needed for a very long time. The campaign is now well underway," she said.