John Burns and Martin Robinson, who own the business near Tingwall Airport, are giving of their team's time to fix cars that still have some life left but are unwanted. These cars are then being sold for a donation to the scanner.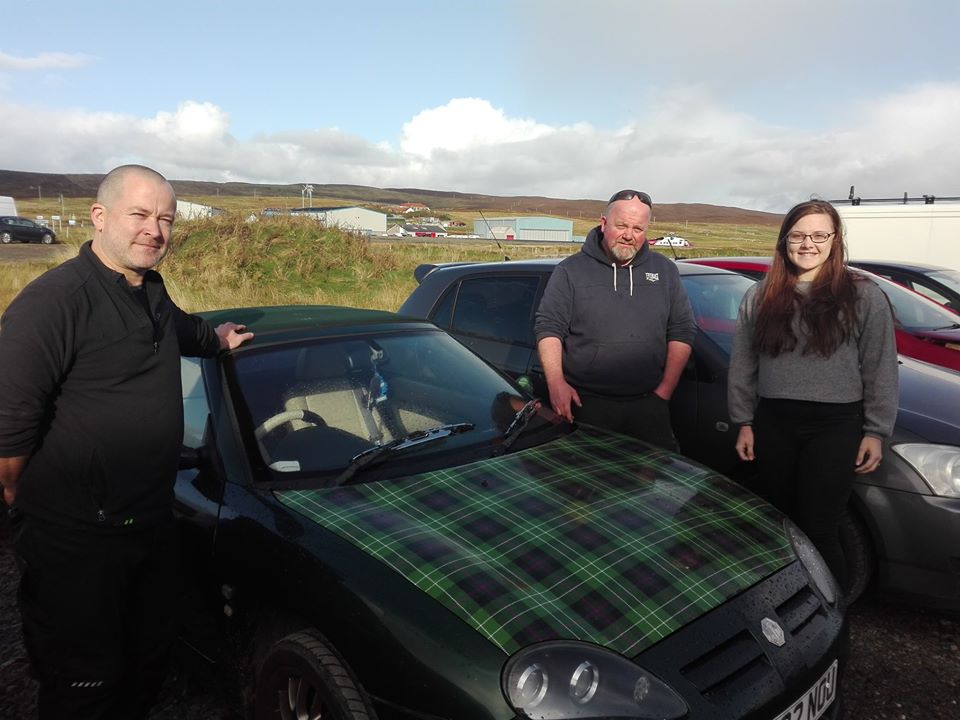 Martin Robinson, left, and John Burns show Jenna Laurenson, from the NHS, the MG TF Convertible the SMR team is renovating.
Martin explained that many car owners, when they bought or leased a new car, didn't know what to do with their old one – especially if it needed money spent on it.
"What we are doing is fixing up the old car at no cost, putting it through the MOT, and then asking the owner to sell it and give the money to the Scanner Appeal."
To repair the vehicles the team at SMR is using a £1000 worth of parts donated by JB Auto Store in Lerwick plus £1000 parts they have donated – specifically for use on this MRI project (£2000 total).
"We, at SMR, never take ownership of the car," Martin explained, "we simply fix it and MOT it and then the owner sells it with the money going to the scanner."
Already the SMR team has been working on several vehicles including an MG TF Convertible, a Ford Fiesta, a Toyota Yaris and a Toyota Corolla with the first sale underway.
Martin and John have a special interest in raising funds for the Scanner as three of their four parents passed away from cancer. So they understand the drain that travel and simple tasks can have on those fighting against such challenges.
The first car sale has gone through which means a donation of £500 to the Scanner Appeal! The next two cars will be ready for sale soon.