Star-Trek A-listers Support the Scanner Appeal
Shetland's biggest Star Trek fan, Davy Leask, has secured three cards, signed by Hollywood A-lister Brent Spiner – aka Lieutenant Commander Data - to be raffled for the MRI Scanner Appeal.
It is the second time Davy has successfully connected with the stars of the hit television show and movies for the MRI Scanner Appeal. Last year Ethan Peck, the grandson of silver screen superstar Gregory Peck and the new Mr Spock, sent a signed card which, with a screening of Star Trek IV The Voyage Home, raised £530 for the Appeal.
Previously William Shatner (Captain Kirk) had sent Davy a signed card to raffle for CLAN. Davy said he was "blown away" by the support of the show's stars who seemed to melt when they heard his enthusiasm was for a Shetland cause.
"My wife Stephanie (an NHS Shetland dietician) and I were at the Star Trek Convention in Birmingham last year where we finally met Ethan and chatted to him about the Appeal. As we were leaving the venue Stephanie stopped and said she was going back to ask Data for his support too."
Surprisingly, when the couple approached security and asked if the actor would speak to them, they were given access – learning later that Brent had been to Shetland and had a soft spot for the isles.
"It had cost £60 a time to access the stars and have them sign a card but Brent said he would post two to us and we could use it for fundraising."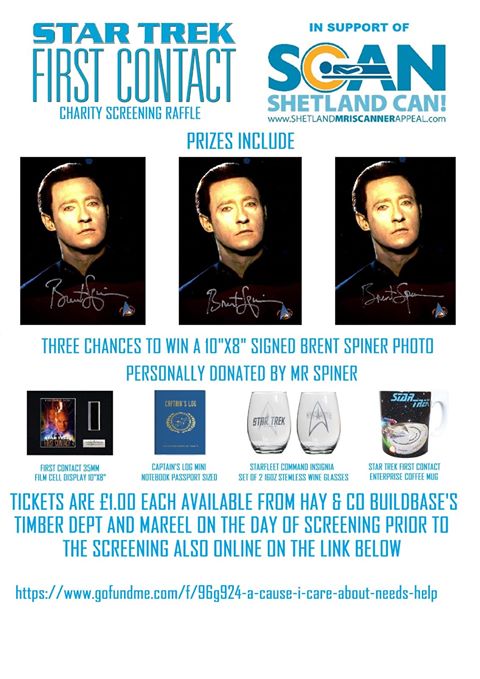 True to his word – and even better, Brent send Davy three signed cards which he will now be selling in a raffle for £1/each with the draw to take place at a special MRI Scanner Appeal screening of the classic Star Trek – First Contact (1996) at Mareel on April 11 at 3pm. Cost of the movie tickets are £10 each with 15 of the 37 seats already sold.
This week Star Trek is back in the news with the launch of the 10-part series Star Trek – Picard which focuses on the character played by British actor, Sir Patrick Stewart. This series can be accessed via Amazon.
To support Davy's Go Fund me campaign visit his GoFundMe page
Movie tickets for the April screening can be purchased at Mareel.