Whalsay's Shoard Shop Hands Over Cheque for MRI Scanner
Ralph Roberts, Chief Executive of NHS Shetland, visited Whalsay this week to accept a cheque for £10,000 for the MRI Scanner Appeal. This incredibly generous donation pushes the fundraising over the £100,000 mark.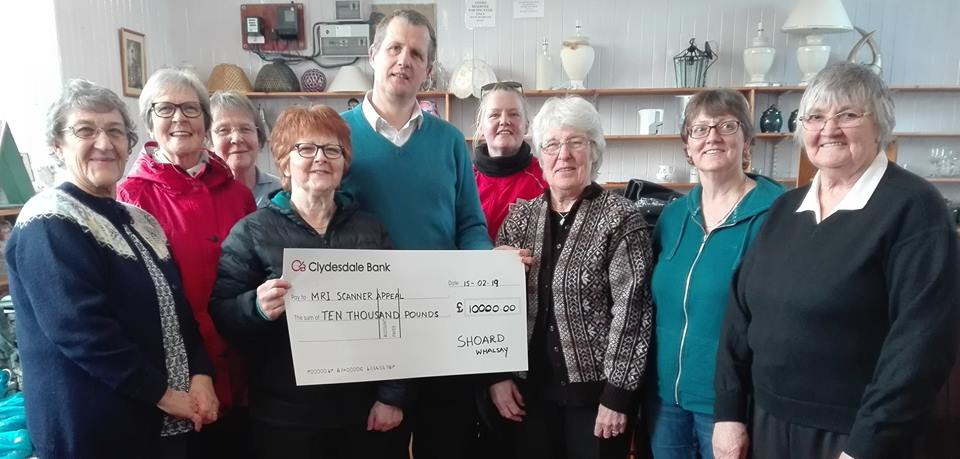 From Left: Joan Stewart, Cath Simpson, Hazel Simpson, Barbara Jane Stewart, Ralph Roberts, Michelle Edwards, Margabell Irvine, Loreen Bolger and Agnes Shearer.
Mr Roberts expressed his sincere thanks and appreciation to the ladies for the work they have done in raising the funds. He commented that this shows the Shetland community at it's best and it is this that makes Shetland such a special place.
Radio Shetland representative, Jane Moncrieff, asked Mr Roberts what having an MRI Scanner on the island would mean for the people living in Shetland. He highlighted that MRI Scanners were being used more and more, they do not use radiation and are therefore safer. As well as this, hundreds of Shetlanders have to travel south each year to Aberdeen to get the scan. Adding to this stress is the fact that many of these people have difficulty travelling. Having an MRI Scanner in Shetland would mean that there would be no long distance travel involved and that people could get scans more promptly.
The donation gives a huge motivational boost to those invested in the appeal. Please get in touch if you would like to fundraise or become involved!